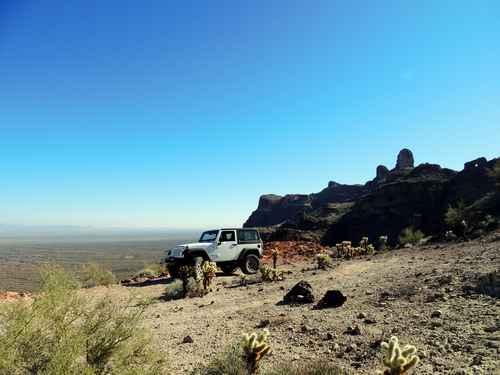 6
Trail Overview
This is a Jeep trail that runs along the "frontside " of the New Water Mountain Mountains and the New Water Mountain Wilderness. There are three spurs that lead toward the mountains. I recommend you start at the east end because this saves the best for last. Most of the trail is rated 4, but the very end of spur #3 is a solid 6. The main trail east of spur 3 is rather mundane, but the westerly portion has a bit more character. Twin Peaks is visible for much of the western section. Spur #1 is a wash road leading to petroglyphs just inside the Wilderness boundary. They are much simpler than typical petroglyphs and are all on small boulders instead of big walls. Spur #2 offers a view of Gunsight Notch. Spur #3 into an old mining area is definitely the high point of the trip, pun intended. I do not know the name of this old mine. Head up into a beautiful wash until you come to a basin where the track forks. This is the spot where the trail becomes a solid 6. Take the right fork and you will reach a narrow shelf road that makes you wonder what is around the corner. After you get your breath back and continue on you will see a beautiful display of chrysocolla. Drive to the end of the spur for a fantastic viewpoint of Eagle's Eye and the open desert you just drove through.
Difficulty
Very rocky, rutted and off-camber trail with erosion, loose rocks, sand, washes and obstacles up to 3 feet tall, including ledges and short, steep grades. Potential for deep water crossings with strong currents.
Status Reports
There are no status reports yet for this trail.