From Field to Table: 6 Tips for Providing Wild Thanksgiving Meals
Millions of people across the country will crowd grocery stores over the next week, searching for frozen turkeys for Thanksgiving day. In the original descriptions of the first Thanksgiving, however, the table was filled with an assortment of game.
Hunters were the providers for the first Thanksgiving. To commemorate their contributions, and the open hunting seasons around the country, we are encouraging all hunters to stay out of the grocery store and instead to pile your plates with groceries from nature's pantry.
Check out our tips on getting your harvest back home and some mouth-watering recipes from our partners and contributors.
Each piece is for species with a broad open season across the country and readily available in most states.
Your moments, our maps
Public and Private Landowner Boundaries and Information, No Cell Service Required.
Try the onX Hunt App for Free.
---
1. Steven Rinella's Special Roasted Duck
From the Field
The original recorded descriptions of the three-day feast accounted by Edward Winslow, in 1621, describes enough wildfowl to last a week. Ducks and geese were almost certainly on the menu with the colonies located on the Atlantic flight path during the middle of migration.
If you're looking to get your ducks from the blind and to the table on Thanksgiving, you may want to stick with breasting your birds. If you're in the warmer climates of the country, look to cleaning birds in the blind to help cool them off, but in the North, like here in Montana, we are often battling sub-freezing temperatures and can wait until we get home.
While the breast meat is the gold standard for migrating mallards, some states do require you to harvest the legs of larger-sized ducks. For these cases, The Meat Eater himself, Steven Rinella, offers a recipe that will utilize breast meat and drumsticks, while providing a historically accurate meal.
To the Table
MEATEATER'S Steven Rinella offers the perfect duck appetizer for your Thanksgiving gathering. Using the breasts and legs from ducks of any size, but preferring puddle ducks over divers, the dish serves up to eight for a traditional dish with a unique flair.
Serves: Up to 8 as an appetizer
Vegetable or canola oil
2 ducks, gutted and plucked, each duck cut into two halves of a boneless breast attached to a whole leg (4 pieces total; see how to butcher on page 308)
Kosher salt
Freshly ground black pepper
Apple Chutney (below, or substitute store-bought)
Method
Preheat the oven to 375°.
Lightly oil a heavy cast-iron pan (I brush mine with oil and remove the excess with a paper towel). Heat the pan on the stovetop over medium-high heat until very hot.
Season the duck on both sides with salt and pepper. Sear the duck halves skin side down, pressing it down so that the duck skin has maximum contact with the hot pan. You want to get the skin crisp and golden; a large duck takes close to 10 minutes.
Using tongs, lift up the duck halves and check to see if there are any feathers poking up from the skin. If so, burn them off with a lighter, a kitchen torch, or the stove burner.
Flip the duck halves so the skin side is up. Set the pan in the oven and roast 5–8 minutes, or until the internal temperature is 135°–140° for medium-rare. The juices should be pink and oily but not bloody, and the breast meat should look pink.
Remove from the oven and let rest for a few minutes. Separate the leg from the breast meat and slice the breast thinly.
Serve with Apple Chutney.
Apple Chutney
2 pounds Granny Smith apples (about 4 apples)
Lemon juice
3 tablespoons vegetable oil
1 tablespoon mustard seeds
1 teaspoon cumin seeds
1 onion, peeled and diced small
6 cloves garlic, minced
2 tablespoons grated fresh ginger
2 tablespoons turmeric
1 serrano pepper, seeded and finely chopped
3⁄4 cup brown sugar
3⁄4 cup apple cider vinegar
1⁄4 cup golden raisins
1⁄4 cup dried cranberries
2 tablespoons honey
Kosher salt
1⁄4 cup lemon juice (optional)
Method
Peel and core the apples, and cut into 1⁄3-inch cubes. Toss with enough lemon juice to coat the apple pieces and prevent them from browning.
In a large saucepan over medium heat, combine the oil, mustard seeds, and cumin seeds. Cook until the seeds start to toast and pop. Add onion and cook until caramelized, about 6 minutes. Add the garlic, ginger, turmeric, and serrano pepper and cook over medium-high heat until fragrant. Add the brown sugar and stir until it begins to dissolve, about 2 minutes. Add the vinegar and bring to a simmer. Cook for about 10 minutes to combine the flavors.
Add the diced apples, raisins, and cranberries. Cook for about 15 minutes until the apples are softened. Add honey and cook over low heat until thickened.
Adjust seasoning with salt, honey, or additional lemon juice, as needed.
This recipe was initially published as part of The Complete Guide to Hunting, Butchering, and Cooking Wild Game: Small Game & Fowl by Steven Rinella.
---
2. Elk Blanquette With Roasted Autumn Mushrooms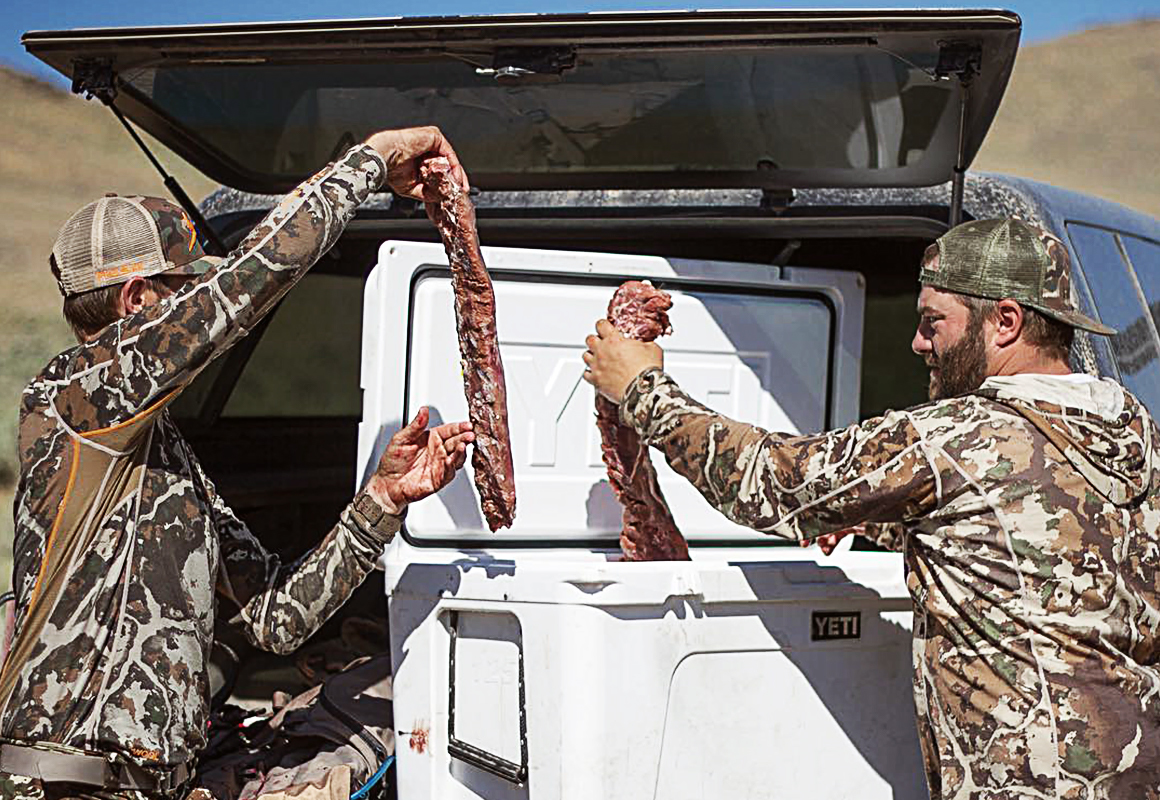 From the Field
I find myself hunting solo around Thanksgiving because a) my friends are all traveling for family gatherings and b) I'm such a sportsman that I purposely let all the elk and deer escape in the early season and focus on the last week of the season.
When the planets align and I do fill my tag, dragging out a whole animal is not an option, so I opt for the gutless method of field dressing. This method lets me take off each quarter, back straps and head without opening the cavity. This really comes in handy when hunting in areas with high grizzly concentration, by keeping the smell down, but it also lets me strap an entire deer onto my backpack for a solo pack out. (Don't forget the tenderloins, or neck meat either, although you will have to make a small incision toward the short ribs to remove the loins)
To the Table
Venison is one of the surefire menu items mentioned by name during the original three-day feast. It can also be assumed elk was present, as well, due to the higher populations on the East Coast at the time. These two meats were staples and deserve a place in the Thanksgiving spotlight, next to the turkey and stuffing.
RMEF life member, chef John McGannon of wildeats.com, puts together a pot pie with the addition of wild mushrooms for a mixture of hunted and gathered foods baked into a flaky crust, for the fall hunting and feasting season.
Yields approximately 1⁄2 gallon or 6-8 servings
Meat
2½-3 lbs cubed elk shoulder, bottom or eye round, with silver skin/tendons removed
salt and pepper to taste
3 tbsp WildEats Lemon Garlic & Sage Rub (optional)
1 cup flour for dusting
3 tbsp bacon fat or cooking oil
Stock
1 cup high-quality white wine
1 qt beef stock or broth
3 cups diced celery
3 cups diced leeks (or onions)
2 tbsp fresh garlic
2 bay leaves
Mushrooms
2 lbs roasted crimini, shiitake, morel, chanterelle, portabella or porcini mushrooms, tossed with salt, pepper, garlic and olive oil, and roast at 325°F for 20-30 minutes
Additional Ingredients
zest of a lemon
1⁄2 cup quality bourbon
1 cup sour cream
seasonal vegetables, garden herbs
puff pastry
egg wash (1 egg yolk mixed well with 2 oz. water, and a pinch of salt and sugar
Method
Lightly dust the elk cubes with the lemon garlic and sage rub, salt, pepper and flour. Heat up the bacon fat or oil in a sauté pan. In small batches, quickly sear the meat until blond. Try not to brown the meat as this will affect the color of the final product. Remember, you are shooting for a white sauce. When the meat is seared, move it to a crockpot or heavy-gauge saucepot. Deglaze the sauté pan with the wine, simmer until reduced to just about dry. Scrape the residue from the pan into the crockpot with the meat. Add the stock and vegetables (celery, leeks, garlic) you can add additional vegetables if you like at the end of the cooking process. Bring this to a simmer and slowly cook until the meat is almost tender (2 hours in a pot or for as much as 5-6 hours in a slow crockpot).
On the side, toss the mushrooms with salt, pepper and garlic and lay them on a sheet pan. Place them into an oven at 325° F for 20-30 minutes. This evaporates the moisture of the mushrooms and intensifies their flavor. Set aside until the meat is almost done.
When the meat is almost tender add the roasted mushrooms, sour cream, bourbon and lemon zest. Stir well and bring back to a simmer. Adjust the seasonings to taste. Each of these last ingredients gives a specific property to the final flavor.
At this point you can eat this Blanquette as is or cool it and place into ramekins. Garnished with your favorite seasonal vegetables and herbs. Cut the puff pastry into circles large enough to cover the ramekins. Brush the egg wash around the edge and place the puff pastry over the top. Press the pastry around the edge of the ramekins. Eggwash the top of the pastry. Place the ramekins on a sheet pan and into a 365°F oven. Bake until golden brown, 30-45 minutes. Remove, serve and enjoy.
---
3. Cabernet Sauvignon Demi Glace
Before refrigeration, people had to find ways to extend the shelf life of their once‑fresh protein products. Curing, smoking, brining, and pickling were all ways to stretch out the usability of meat under volatile conditions and to prevent the growth of bacteria. Sauces could mask the sometimes "off" flavor of meat that had been held a bit too long. This also explains why Europeans were willing to send their prized explorers around the world in search of spices, which were used to make their food palatable even when slightly spoiled.
4 tbsp finely diced shallots
2 tbsp minced fresh garlic
4 tbsp clarified butter or olive oil
4 tbsp flour
2 cups quality Cabernet Sauvignon
4 qts dark beef, game or veal stock
Salt and pepper to taste
1/2 cup cold butter cut into small pieces.
Herb/spice/fruit garnishes: such as thyme, sage, marjoram, chives and scallions; green peppercorns, crushed juniper berries, dried fruit like cherries, cranberries and apricots.
Method
Add clarified butter or olive oil to a large stockpot. Heat on medium until the fat is hot. Add the garlic and shallots and stir until lightly golden brown. Add the flour and stir for several minutes until the flour turns golden. Add the red wine and mix thoroughly. You don't want any lumps. Cook for a couple of minutes until the wine reduces by half. Add the stock (cold) and again mix thoroughly. Slowly bring the stock to a simmer and skim any scum that forms. Allow the stock to cook down until it's reduced by two-thirds (the actual time will depend on the size of the pot and how much evaporation occurs). The sauce should be slightly thickened and have a brilliant shine. I like to strain the sauce into another pot before finishing.
Using a wire whip, stir the butter into the sauce. This will thicken it a bit and add more shine. Called Monte Au Beurre, or mounting with butter, this procedure helps maintain the balance of fats and acids. Always adjust the seasoning with salt and pepper just before serving. If you season while reducing you will run the risk of having the final sauce over seasoned. You can also adjust the balance of the sauce with a touch of acid (vinegar, citrus or wine) if it gets too rich. Finish this luxurious sauce with your choice of herbs, spices or fruit. This last step should be done just before serving so they retain their color, texture and bite.
A great way to handle your stocks or sauces is to prepare a large batch and freeze it in small quantities, like quart zip-lock bags, for use when you need it. A frozen sauce will last for a year in a good freezer.
---
4. Bourbon-braised Quail With Hunter-style Gravy and Roasted Yukons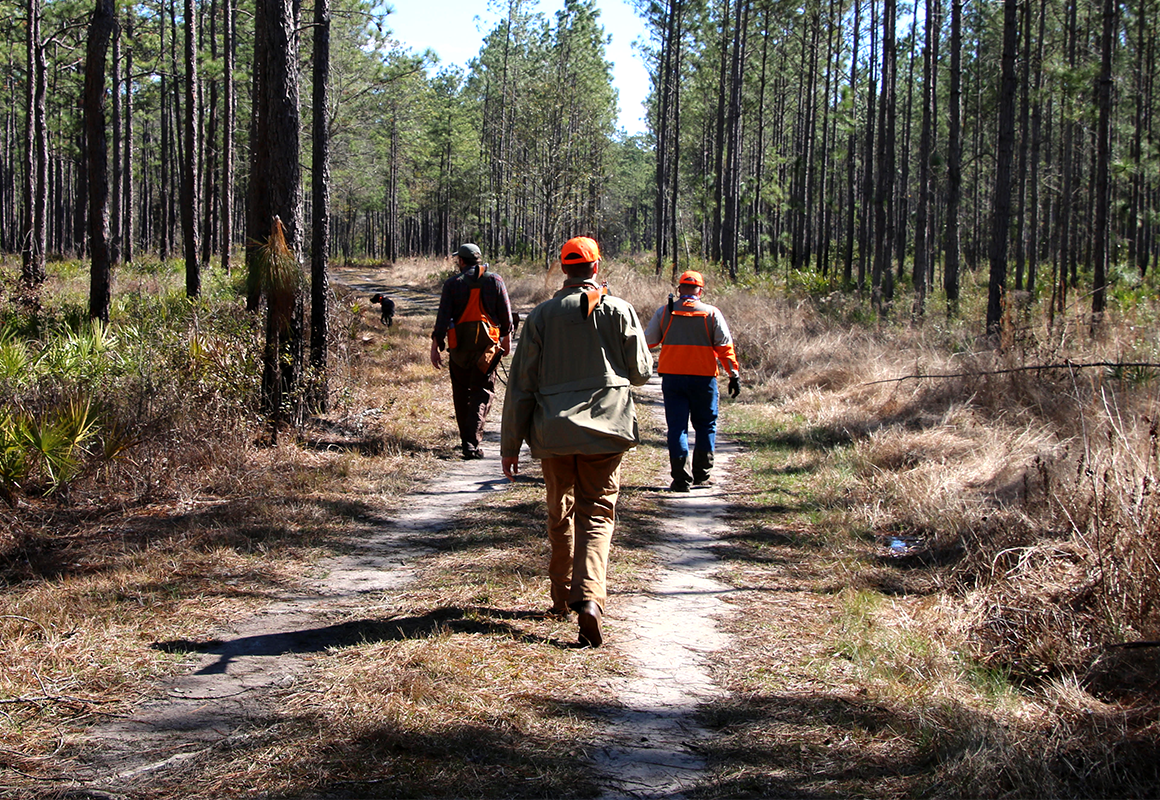 From the Field
Upland bird seasons are going strong across the country too and whether you're going for the traditional turkey, or a mixture of grouse, quail, or pheasants game birds have a traditional place on the table this time of year (minus the introduced pheasant and partridge species of course). The fastest method for cleaning a larger game bird like grouse, or pheasant, is to 1) Lay the bird on the ground, breast up. 2) Step on the wings close to the body 3) Grab the feet and slowly, but forcefully, pull while standing upright. The method will remove all the innards and feathers, while leaving the wings for proper identification if you are traveling (slice into that thigh meat, even after the feet are removed). Even if your state doesn't require this, there are still small portions of high-quality meat there.
To the Table
Another game bird colonists could have easily harvested for the feast, was bobwhite quail. The game birds would have flushed in uncountable numbers and provided a great addition to the gathered squash, corn, walnuts and other side dishes.
Jack Hennessy, from the Pheasant Forever Blog, shares a simple, but effective way of brazing quail with a little kick, while serving them up with the side dishes you'd expect to find on the Thanksgiving table.
Makes two servings.
Ingredients
Bourbon-braised quail and gravy
4 whole quail, plucked, approximately 18 ounces
Bacon grease from 8 ounces of diced bacon
1 cup shallots, sliced julienne
1-1/2 Tablespoons freshly minced garlic
8 ounces sliced crimini mushrooms
2 Tablespoons butter
1 Tablespoon white wine vinegar
1 cup bourbon
3 cups chicken stock
5 Tablespoons flour
1 teaspoon kosher salt
Roasted Yukon potatoes
5 to 6 medium Yukon potatoes, approximately 18 ounces
8 ounces applewood-smoked deli counter bacon, diced
2 Tablespoons butter
1 Tablespoon white or black pepper
Method
Dice Yukon potatoes and place in a large pot. Cover the potatoes with water and set the heat to high. Add 1 tablespoon of kosher salt to water and boil. Once water reaches a boil, wait 5 minutes, test texture—potatoes should have tender texture but not turn to mush when poked with fork. Drain water. Leave potatoes in pot until bacon is finished. Preheat oven to 450 degrees.
Dice half pound of deli-counter bacon (easier when bacon is very cold). On medium heat, in a large, deep sauté pan, cook bacon bits and render fat in pan, until bits exhibit semi-crisp texture (approximately 10 minutes). With a slotted spoon or tongs, remove bits and set aside on napkin-covered plate.
Lightly salt and pepper all sides of quail. Place quail in pan and sear to a golden brown in bacon grease. Remove quail after browned. Deglaze pan with 1/2 cup bourbon. Add shallots, mushroom, garlic and butter and sauté until shallots are soft (approximately 5 minutes). Add another 1/2 cup bourbon, chicken stock, vinegar and 1 teaspoon salt. Stir liquids. Place quail back into pan to braise. Turn and flip every 10 minutes.
In a 10-inch-by-15-inch baking pan (or similar-size baking pan), place Yukon potatoes and lightly smash or crumble. Add bacon bits. Place in oven on a low rack to roast for 30 minutes. (Note: Baby carrots pair well with this dish and require the same amount of time as potatoes to roast).
After potatoes have roasted and quail has braised for 30 minutes, turn oven to high broil and tend to quail. Remove quail from liquids, set aside in a warming drawer or on a plate covered with aluminum foil (do not place quail in the oven with the potatoes). Add 5 tablespoons flour, 1 tablespoon at a time, to liquids and stir thoroughly. Additionally, stir broiling potatoes every 3 to 5 minutes. After 15 minutes of boiling potatoes and stirring flour into gravy, potatoes should be golden brown and gravy should have a thick texture. If necessary, salt gravy to taste.
To serve, place two quail on each plate, along with roasted potatoes and cover with gravy. Garnish with freshly minced parsley and enjoy!
This recipe was initially published here.
---
5. Smoked Turkey Legs From NWTF
From the Field
Turkey was never specifically mentioned in the original journal depicting the first Thanksgiving, but the National Wild Turkey Federation estimates there were near 10 million turkeys in the country around colonial times. Therefore we can assume it was featured, during the original feast.
It may be sacrilegious in turkey hunting circles, but I have always skinned my turkeys, opposed to plucking them, to speed up the cleaning process and keep my cleaning area tidy. My mother also despised feathers and threaten my life and limb if one ever got into the house. To compensate for the lost skin, I salt the meat before roasting, which I find crisps the outside of the bird acting like a barrier to keep in moisture.
To the Table
The wild turkey breast gets most of the attention when talking recipes, but I have an affinity for gnawing on a wild turkey leg like some sort of barbarian. Here you can find a recipe from NWTF for smoked drumsticks with homemade bbq sauce. After cooking, you can pull the meat off the bone and serve it whichever way you'd like, or go straight barbarian by gnawing it off the leg bone.
Ingredients
4 turkey legs
1 gallon water
½ cup salt
¼ cup sugar
¼ cup honey
16 or 12 oz package bacon
Bbq sauce
Yields – 3 ½ to 4 cups of smoked turkey meat.
Method
Mix brine with gallon water, salt, sugar and honey. Submerge legs in brine and store in fridge for 3-4 hours.
Remove, pat dry and wrap each leg with 3-4 slices bacon.
Cook on smoker at 225-250 degrees.
Brush with bbq sauce once internal temps reach 150 and remove from heat at 165 degrees.
Wrap in foil and let rest for 15-20 mins.
Remove meat from the bone and enjoy on sandwiches, salads or in soups.
This recipe was initially published here.
---
6. Backstraps Kept Simple
When I harvested my first deer, I was sporting enough that year to let every buck in the state go, until Thanksgiving Day. That day kicked off a tradition of always having backstrap as the centerpiece of my Thanksgiving meals.
Long, arduous recipes are great and can certainly impress the table. Not everyone has this sort of time, however, plus sometimes the simplest recipes can bring out the full flavor of wild game.
Erik Van Woerkom, of Muley Freak, shares a simple recipe, which requires little prep time and will be sure to impress.
Thaw out back straps for up to six hours, or as long as needed
In a plastic bag, marinade with Worcestershire for two hours
Wrap in bacon (if you care to), add Montreal seasoning
Grill to your liking (seriously though, there's no need for well done)