Triple 7
Best Time
Spring, Summer, Fall, Winter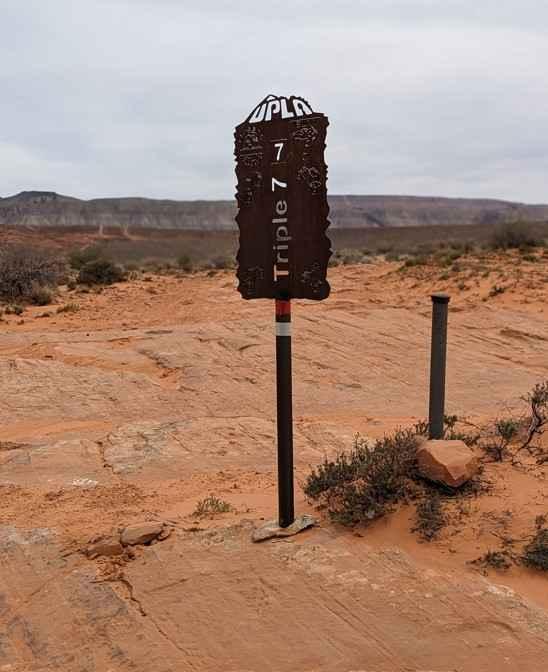 7
Trail Overview
Triple 7 is a 1.5-mile point-to-point trail with end-to-end obstacles. Don't let the name fool you this trail no longer consists of 7 rated obstacles. With the extension to Triple 7 this trail is now rated 8 of 10. This trail consists of sandy washes, slickrock ledges and cracks and sandstone waterfalls and drop-offs. Unlike other trails once past the initial entry obstacles there is little to no rest between obstacles. A series of slickrock ledges and rolling rocks called "Cam Country" begin this trail. A large crack that can swallow a vehicle called "The Dipper" follows quickly along the trail. The trail proceed up the mountain crossing a narrow slick rock fin with cliffs on each side to the "Stairway" which sits a little more than halfway through the trail. The trail crosses over Double Sammy and continue up a narrow fin to some more challenging waterfalls with no bypasses. After one last waterfall climb the trail exits at the end of Joint Effort on the opposite side of the ridge from the Triple 7 trailhead.
Difficulty
The trail consists of rock, sand and considerable slickrock with many steps exceeding 48". Steep inclines and declines are prevalent. Enhanced off road equipment is required including locking devices (front & rear), 35" tires, maximum vehicle ground clearance, and tow hooks. A winch is desirable. Excellent driving skills are required. Vehicle mechanical or body damage is likely. Rollover possibilities exist. Vehicle mechanical or body damage is likely. Rollover possibilities exist.
Status Reports
There are no status reports yet for this trail.