Metal Masher
This iconic loop around Arths Rim features one of the best overlooks in Moab.
Best Time
Spring/Summer/Fall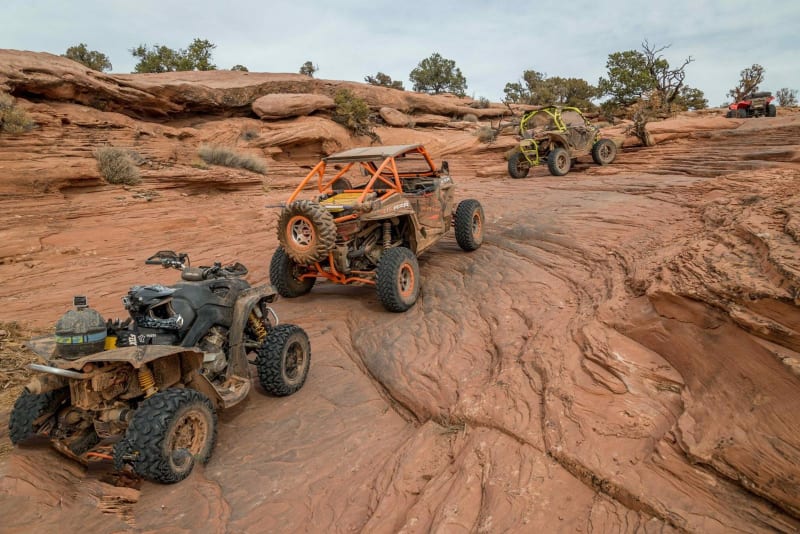 25
Trail Overview
If you want fun and a lot of variety, you'll love this trail and the obstacles it offers. Metal Masher has become increasingly difficult over the years, and it is recommended you bring a team and have at least one rig take a bypass to the top. That way you'll have a winch point; otherwise you may be out of luck. It is a difficult trail for ATVs and is closed to OHVs.
Difficulty
Difficult. Lifts, bigger tires and lockers recommended. Not for stock vehicles. Optional Rock Chucker is extreme and for big rigs only. Lots of barren slickrock makes route-finding challenging. Possible large new roads for drilling activity may be confusing. Fortunately, the trail is well-marked with MM signs, white dashes and black tire marks. Backtrack if necessary.
History
The obstacle everyone now calls Widow Maker was not the original spot dubbed as such. It was the bad spot, pictured at left, at the top of the steep, narrow hill that is described in the mileage log at 8.2 miles. The spot was repaired after a serious accident during which a Jeep rolled off the edge. Source: Ber Knight, Red Rock 4-Wheelers.
Technical Rating