Experience Sand Mountain
Best Time
Spring Summer Fall Winter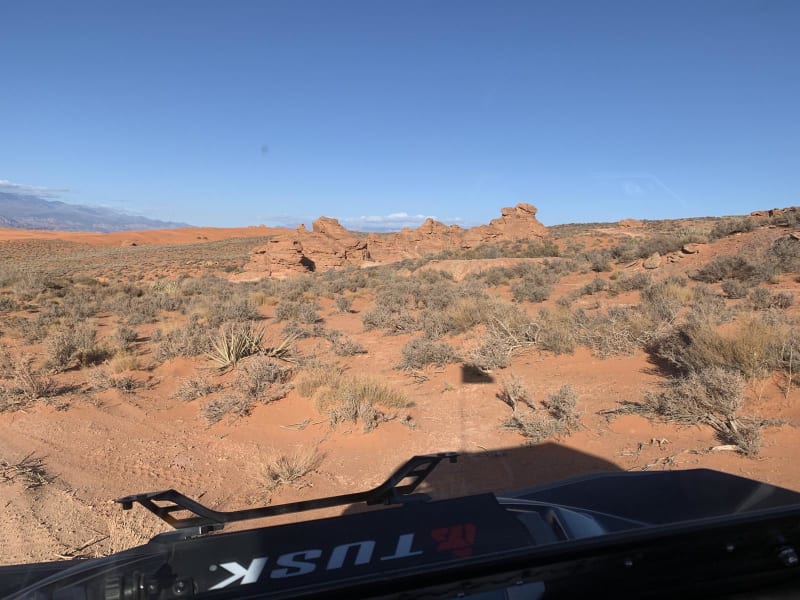 18
Trail Overview
This track does not follow any of the named trails. It was laid out for those that have a limited amount of time to enjoy Sand Mountain, may have less experience with a UTV, or those just looking for a fun ride. You can hook up with this track from the Sand Hollow State Park by coming up past the water tanks and following a path until you intersect the track. When you reach the road at the end just turn right and stay along the highway back to your staring point. You will experience all types of terrain including deep sand dunes, rocks, moderate ledges and a fun slalom. Of course for the more adventurous, the full-blown rock experience is available on adjacent trails. You will see many of the premier sites including Top of the Rock, the Flintstone house, Kissing Turtles and Mad Moose Rock. You will have the opportunity to see many others in the distance. As you go along the West Rim for Wimps, you can drop down into many fun areas along the West Rim trail. Don't miss the Hot Tub after completing Bobsled. For those with more time just explore. The area has so much to offer. Take your time to carefully look at the sites and the surrounding area, it is beautiful.
Difficulty
There are some steeper and more challenging areas very near the track, but by picking your path you can keep things manageable for those looking for a little less excitement.
Get the App
Find Off-Road Trails
Unlock more information on Experience Sand Mountain.