Q & A with Guy Eastman on the New Eastmans' Layer From onX Hunt
onX is excited to announce a new layer and partnership with one of the biggest names in Western hunting, Eastmans'. The new Eastmans' Layer for onX Hunt helps you plan out next year's hunt by giving you drawing statistics, harvest percentages and trophy quality for elk, deer and antelope in every Western state.
We had the privilege to speak with Guy Eastman himself about what the new layer means for the average hunter, the history of Eastmans' and what the future holds for all hunters.
Q: What do you think are the three best features of this App layer?
A: I think the first one obviously is the color grading scales. That's what a lot of people gravitate to because it instantly shows you the quality of an area. A lot of people rely on that as a quick 30,000-foot view of an entire state, then can refine their search. Then you get into success rates. That's another one people really want to look at, how successful others have been in that unit. Then it's the draw rate; after guys see they can shoot something in an area, they want to know if they can draw that tag.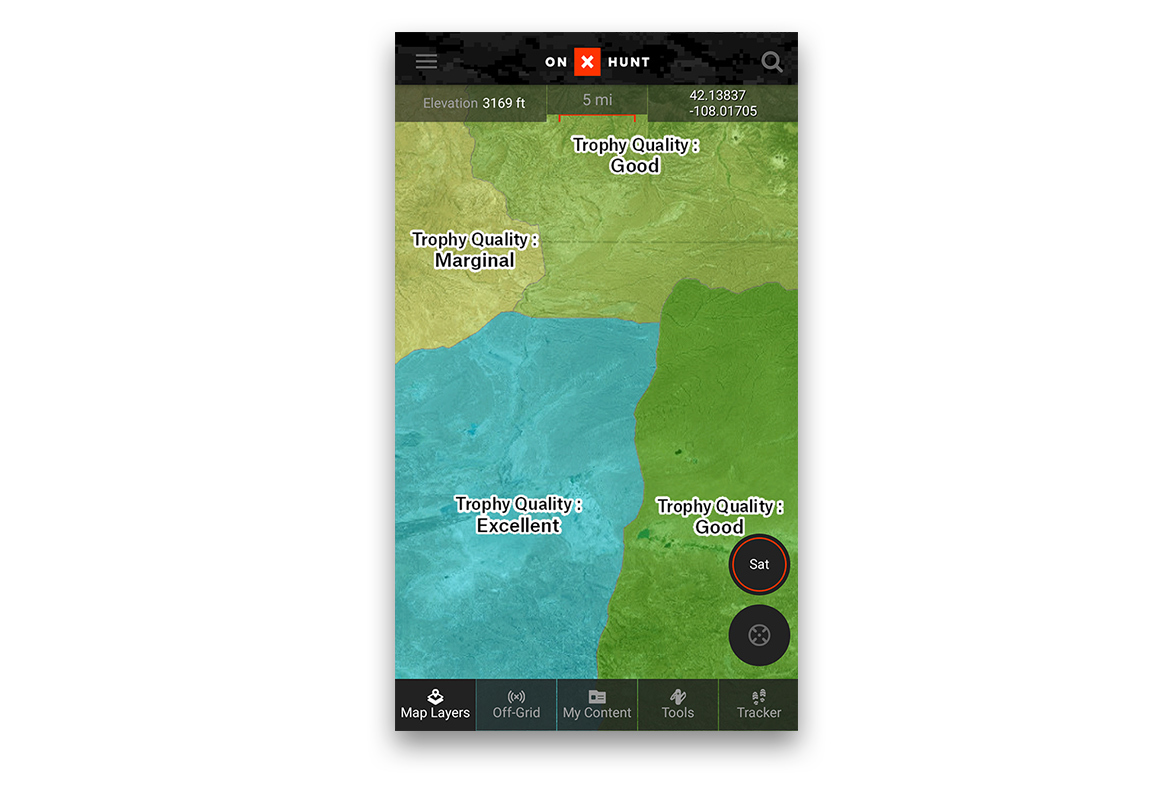 Q: Without giving away any family secrets, how do you compile all of this incredible data?
A: Most of it is just hard work. It is hours of work. We added it up one time and it was over 2,000 man hours of work to compile the data, so it would be impossible to compile this data yourself. Most states are getting this data out around now, which only gives you around 30 days to figure out where you want to hunt and it's not enough time. Most of it is public domain too, but we also use state GIS teams and other sources. Then, we have the grading process, which we use personal experience to grade as well.
Strategy
Q: How important can this data be for the average (weekend warrior) hunter?
A: Absolutely, this is built for the average, everyday hunter. The non-average hunter just hires a guide and lets him do all this work. It's built for the person who wants to go on public land and do it themselves.
The research component of the hunting world is becoming more important than ever. It's built for the everyday guy. He has to do it himself and all these little puzzles to give him an edge.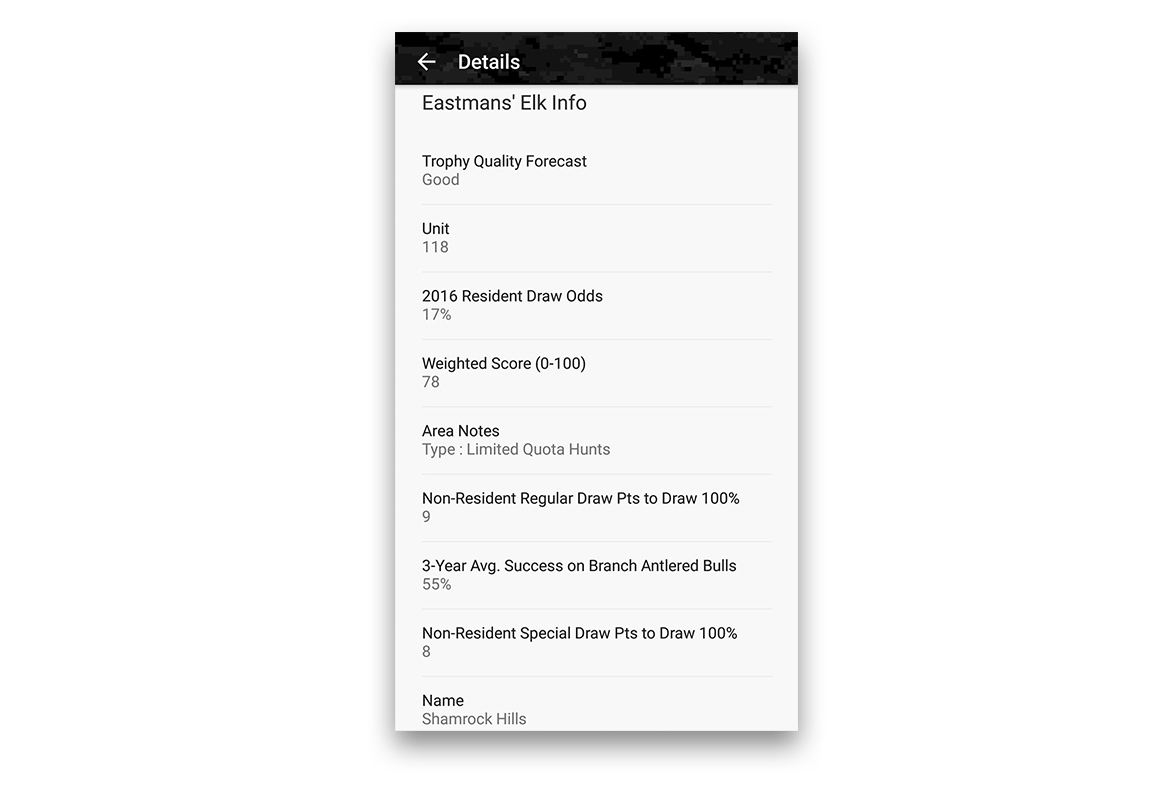 Q: How do you see the layer being used for hunting from the planning phase to the actual hunt?
A: This data is built for the planning phase. You can match the quality grade of an area and draw odds with the type of hunting you will be able to hunt. Will it be a backpack hunt, or will there be roads?
But when you're in the field, maybe you're antelope hunting and you see a big buck deer. You can open this layer and see how hard of a draw it is for deer and how many points it will take and you can start planning for the next year. Or if you are at the shows, or talking to a taxidermist and hear about an area, you can start looking it up. Research never ends, it's a continual cycle. This tool puts a lot of that information at your fingertips 24/7.
Q: What place does technology have in a tradition-based sport like hunting?
A: That's where things can get tricky. It's kind of a slippery slope, so to speak. We are continually improving our abilities and our environment. We are seeing a lot of technology entering the hunting world that's not always positive for the sport. The research technology and mapping are a positive though.
Q: What are your thoughts on technology possibly helping inspire a new generation of sportsmen?
A: I think there's a possibility it can get some of the kids started, I would just hate for them to think the sport is all about technology though. This sport is all about sitting around a campfire telling stories, hard work and getting out there. But if we can use the technology to get the kids thinking this is pretty cool, then thats a good thing. The technology changes, but the kids don't. Kids are kids, they want to play in the dirt and throw rocks.
Eastmans' History
Q: Who were your biggest inspirations in hunting (personal and industry)?
A: Personally, my grandfather, Gordon Eastman, for sure. I spent a lot of time with him and he was regarded as a pioneer and a legend in the business. I used to spend as much time with him as I could as a kid. I would spend all summer with him and he really helped shape me as a sportsman. He taught me to respect the wildlife and the outdoors and how to really be an outdoorsman. I grew up hunting with my father too and I got to hunt with him a lot in my later years and he still keeps me in check. I got to meet so many people in the industry from my grandfather, like Jack O'Connor and Fred Bear. I got to meet Will Primos and he was the one who taught me how to put on a tree stand harness and he laughed the whole way.
Q: Can you give us a brief History of Eastmans'?
A: My family started the business when my grandfather started it back in the 50s. He did his first hunting film in 1957, in Alaska. My grandfather worked for Disney for a while in California and that's where he kind of refined the craft. He was one of the first guys to film hunting. My dad and his brothers grew up with that and then in '87 my dad got the idea to start a magazine. It was the first Western hunting magazine and guys in the East could look to the West and realize they could come out here and go hunting. He built that magazine to help people out West to become better hunters and our information was always in there, but it was pretty rustic. Ever since then, it has just gotten more and more refined and bigger, but the states have gotten more complicated too. As the systems and states have gotten more complicated so has our data.
More on Guy
Q: How many states did you end up hunting this last year?
A: I hunted more international in the Northwest Territory and Tajikistan this year, but I still managed to hunt three states; Wyoming, Colorado and Montana.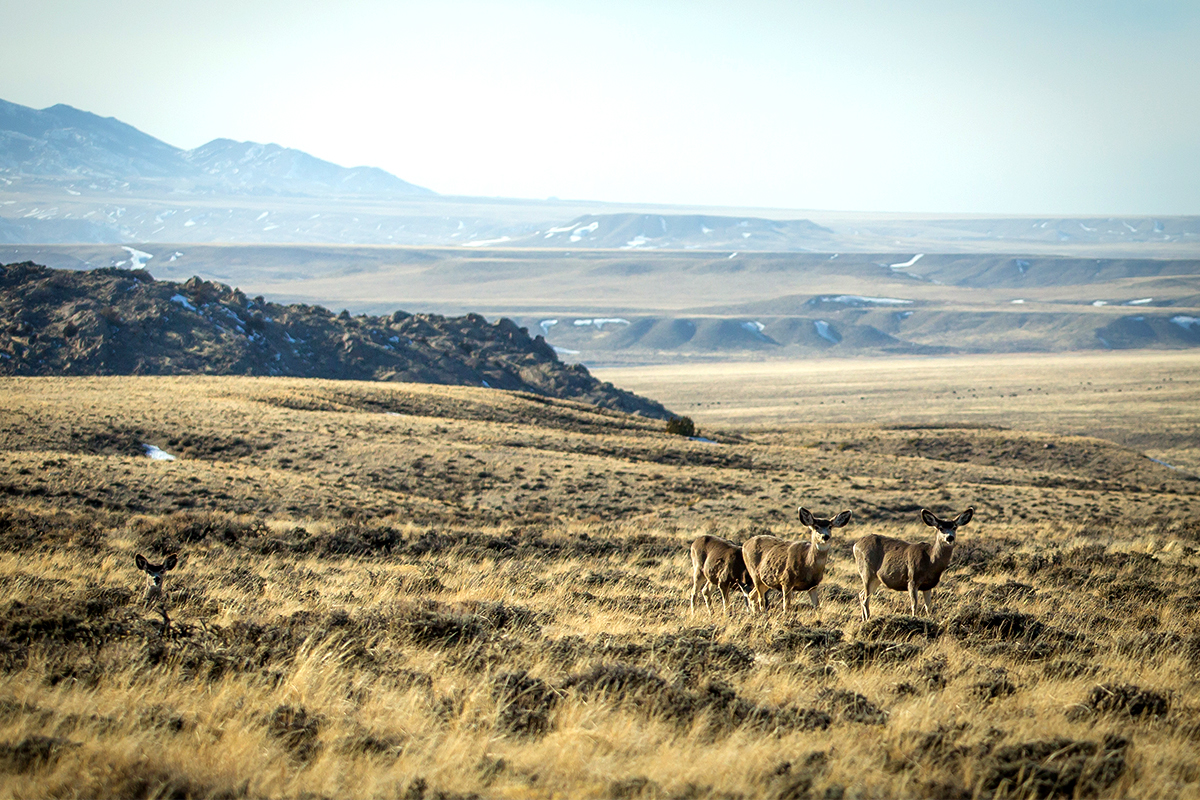 Q: Of all the species listed, which is your absolute favorite and why?
A: Mule deer by far. I grew up a mule deer guy; my grandfather's top species was mule deer and my dad was a mule deer guy. It's a hunter's hunt. You can't call them, they don't bugle, they are shy, it's spot and stalk. Mule deer are more like an old Western movie, there are more sunsets and a lot more romance to it. Even after going to Tajikistan and Northwest Territories, my heart is still on a backcountry mule deer hunt.
Q: Outside of Wyoming, what's your favorite state to hunt? Why?
A: My gut says Montana. I like Montana and spend a lot of time there. It's a big state with a lot of options and their draw process likes me for some reason. I like the later seasons there also, because when everything closes down in Wyoming I can come up to Montana. There's a lot to like about Montana. It's a great state to hunt often.
Q: What are some of the main challenges you find in the hunting industry today?
A: I think technology is a big challenge, and it's accelerating. We as an industry, and big game managers, need to come up with some solutions to regulate it to keep hunting fair and in its traditional roots. Hunting was never for the guy who could buy the best equipment. It was for the guy who worked hard and wanted to get out there, and for the guys who couldn't do that, there were guides. Now on the flip side, poaching is a real problem too. There is some frustration with limited quotas and drawings because of those quotas.
There also are many aspects of television and social media that do damage to the industry. My heart breaks when a kid pulls his phone out at a show and shows me his 140-inch buck he worked hard for and then calls it just a buck. That's not what this sport is about. We have those big bucks and bulls in our magazine; those are the out of the ordinary and they don't mean that kid's buck has any less value. Some of the best hunts I've been on I didn't even fill a tag. It's not about the results, it's about the process. There are no failures in hunting. None. If you're out there it's a success.
Q: Which conservation groups does Eastmans' currently work with?
A: Almost all of them. Elk, deer, sheep, Safari Club, mostly on the local level. We are big proponents of the grassroots organizations at the local level. So we work a lot with local chapters, donating and helping them get what they need. My brother Ike and I are life members of most of the organizations too. We do what we can.
---
You can learn more about this onX Hunt layer on our support site, here.
Last updated July 2018.